Our Control Panels meet NEMA 4 specifications
Featured Product from Indelac Controls, Inc.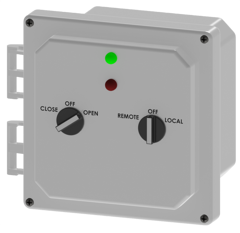 Control panels
Indelac control panels are designed to provide dependable operation as well as meet NEMA 4 specifications. While ICI offers a number of standard control panels we also design special controls for various applications. If your needs do not fall within the realm of our standard control panels please call or email your specifications for design consideration.
Open / Close Push Buttons
Model PBOC-10 is a compact push button control station normally located at the actuator, however there are many applications requiring that the control be in a distant location. It is available with momentary contact or mechanical interlocking switches to meet the specific requirements of the application. This control package is supplied with a NEMA Type 4 enclosure (additional enclosure types available) and is equipped with lights for position indication. This control panel can be used in numerous applications where on/off control is required.
Open / Close with Selector Switches
Model SLOC-10 is a compact control station similar to model PBOC-10 except a selector switch is applied instead of the push buttons used on model PBOC-10. This control package can be located at the actuator or at a remote location of the actuator being controlled. The enclosure is NEMA Type 4 (other enclosure types available) and is equipped with indicating lights for position indication. This control panel is ideal for applications requiring on/off control remote or local to the actuator.
4-20mA Signal Transmitter
This control panel transmits a 4 to 20mA analog signal to provide proportional position control of an actuator/valve for precise control of flow, pressure or temperature in a verity of applications. This control package can be used in process control or throttling applications.
Remote/Off/Local
This control package is available on all ICI electric actuators. It is normally mounted on the actuator but can be mounted along side the actuator and hard wired to the actuator. These controls panel are equipped with NEMA Type 4 enclosures as standard (other enclosure types available). Standard equipment also includes open/close light indication, Remote/Off/Local selector switch, mechanically interlocking open/close push buttons (or selector type open/stop/close switch, shown in PDF) and well-marked terminal strip for easy field commissioning.
Watch>>Indelac Controls, Inc. Company Overview
Indelac Controls, Inc. (ICI)
Indelac Controls, Inc. (ICI) manufacturers a full line of quarter turn rotary electric actuators used for valve and damper automation. Founded in 1986, Indelac was incorporated as an "S" corporation on November 30, 1987. ICI takes pride in being a family owned and operated electric actuator manufacturer for over 32 years. All of ICI's production is based in Northern Kentucky, though you can find our products in all 50 U.S. states and on 6 continents around the world. At Indelac, we are one big motivated family, and our family is dedicated to advancing the technology we use, along with our employees'expertise in a constant effort to better serve our customers'automation requirements. Our upgraded facility continues to utilize state-of-the-art machinery throughout the manufacturing process assuring the highest possible quality using American made products. Indelac's main goal as an electric actuator manufacturer is to design, develop, and manufacture a high quality electric actuator at a competitive price, while maintaining on-time delivery. ICI's product line consists of electric actuators with torques ranging from 100 lb-in output torque through 27,300 lb-in output torque, as well as offering an array of controls for ordinary on/off controls, to sophisticated process control applications.