Safe & Secure Series: Fail-Safe Electric Actuator
Product Announcement from Indelac Controls, Inc.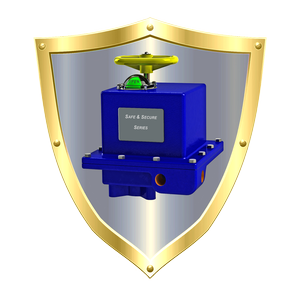 No Power? No Problem!
Safe and Secure Electric Rotary Actuator Series: Automation Confidence for Critical Applications.
The Safe & Secure Series is a compact cost effective solution for critical applications. With its own built in power supply the Safe & Secure Series couples the reliability of our American made electric actuators with the added security of a fail-safe battery back-up system. Not only this unit includes an internal battery pack, it is also field adjustable to fail closed, fail open or continue standard operations. Continue operation is available as long as the control signal is still being transmitted. The Safe & Secure Series leaves you in total control at all times during any sudden loss of utility power.
Available output torques range from 400 Lb-In (45.2 Nm) and NOW UP to 2,800 Lb-In (316 Nm).
Enclosure options include: NEMA 4, 4X, 7 and 9. The heavy-duty sand-cast aluminum enclosure has a thermally bonded ultraviolet resistant polyester powder coating that not only enhances its appearance but also is a tough corrosion resistant coating. Anodizing and epoxy coatings are offered as well.
NEMA 7 and 9 enclosures are perfect when the application requires equipment rated for Class I Groups C & D and Class II Groups E, F & G div. I and II environment. Despite a hostile environment, the Safe and Secure built in this explosion-proof enclosure can get the job done and lower the overall risk factor of the installation.
Safe & Secure Series is available in 115Vac, 230Vac, 12Vdc, 24Vdc, and 24Vac operating voltages to guarantee electrical compatibility and reliability with any process control around the world. It is equipped with 300 series stainless steel output shaft and heavy duty spur gear drive which, as in all ICI electric actuators, can withstand stall conditions without suffering gear failure.
BATTERY: 12 Volt 0.8 AH, Rechargeable Sealed Lead Acid Battery, Minimum 4 Years Life in Stand-By Use at 68°F
Options include, but are not limited to:
Modulating control
Declutching manual override with hand wheel
Power off brake for butterfly valve automation
Precision multi-turn
Torque sensors
Heater and thermostat
Position indicator feedback
The Safe & Secure Series… An automation solution that you can count on.
The video below shows the advantages of the Safe and Secure Series compare to other fail-safe options like spring return actuators.
---