Spring Return Electric Actuators - AS Series
Product Announcement from Indelac Controls, Inc.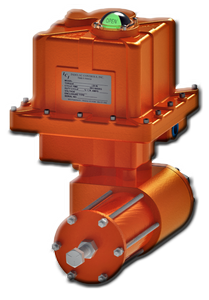 Indelac's spring return electric actuators are heavy duty, quarter turn rotary actuators. These high quality, American made actuators have been designed for use as a fail-safe solution in the industrial valve and damper automation industry. They are recommened for applications requiring system protection from unforeseen power failures.
TORQUE:
AS4 = 400 In-Lb (45.2 Nm)
AS6 = 600 In-Lb (67.8 Nm)
AS10 = 1,000 In-Lb (113 Nm)
CYCLE TIME: 12 sec. / 90° 115 or 230 Vac
DUTY CYCLE: 25% (standard) 115 Vac or 230 Vac
MOTOR SPECIFICATIONS: Permanent split capacitor 115 Vac / 1Ph / 50-60 Hz (standard) with thermal over load protection
Standard = 115 Vac
Optional = 208 Vac/1Ph/60Hz or 230 Vac/1Ph/60Hz
ENCLOSURE: NEMA 4 (standard), NEMA 7 (optional)
COATING: Thermally bonded polyester powder
POSITION IND.: Visual indicator, wired for light indication
SWITCHES: SPDT snap action, 15 Amps @ 250 Vac
LUBRICATION: Permanent
WEIGHT: 68 to 78 Lbs
INSTALLATION: Universal
TEMP. RANGE:-40°F to 150°F, Heater & Thermostat required 0°F & below
OVERRIDE: Non-declutching (optional)
---