Spring Return Electric Actuators - ASC Series
Featured Product from Indelac Controls, Inc.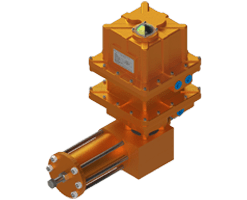 Indelac Controls is proud to introduce models ASC4, ASC6, ASC10 & ASC12. These heavy duty spring return actuators utilize an electro-mechanical clutch in order to achieve modulating control as well as DC voltage options for our already popular spring return electric actuators. ICI's new ASC series, like all of our products are 100% American made.
TORQUE:
ASC4 = 400 In-Lb (45 Nm)
ASC6 = 600 In-Lb (67 Nm)
ASC10 = 1,000 In-Lb (113 Nm)
ASC12 = 1,200 In-Lb (135 Nm)
CYCLE TIME: 12 sec. / 90° (all voltages)
DUTY CYCLE: 25% 115 Vac (standard), 15 min continuous (optional)
MAX CYCLES: 300 per hour
MOTOR SPECIFICATIONS: Permanent split capacitor, 115 Vac / 1Ph / 50-60 Hz (standard) with thermal over load protection
115 Vac (Std.) = Standard
24 Vac = Optional
24 Vdc = Optional
12 Vdc = Optional
208 Vac/1Ph/60Hz = Optional
230 Vac/1Ph/60Hz = Optional
CLUTCH: Electro-Mechanical (standard)
ENCLOSURE: NEMA 4 (standard), NEMA 7 (optional)
COATING: Thermally bonded polyester powder
POSITION IND.: Visual indicator (optional)
SWITCHES: SPDT snap action, 15 Amps @ 250 Vac
LUBRICATION: Permanent
WEIGHT: 110 Lbs
INSTALLATION: Universal
TEMP. RANGE: -40°F to 150°F, Heater & Thermostat required 0°F & below
OVERRIDE: Non-declutching (optional)