Diesel Exhaust Fluid (DEF) Tanks
Product Announcement from Elkhart Plastics, Inc.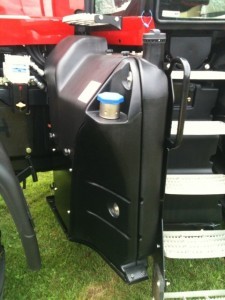 Elkhart Plastics, Inc. engineers and manufactures eco-friendly and green products including DEF tanks (Diesel Exhaust Fluid) and Urea tanks for Diesel engine powered vehicles. This technology is also called Selective Catalytic Reduction (SCR). Diesel engines larger than 3 liters made after January 1, 2010 are required by the EPA to be equipped with these pure Urea or DEF systems. This high grade Urea will be injected into the exhausts of these vehicles to scrub or clean the NOx (Nitrogen Oxide) from the engine exhaust. In addition to helping clean up the exhaust fumes of these diesel engines manufacturers are also able to improve fuel efficiency by tuning to increase torque reducing fuel consumption.
These holding tanks are manufactured by Elkhart Plastics, Inc. here in the United States. Contact us today for pricing. You can find out more information about DEF product suppliers and the process here. Road vehicles and heavy equipment are not the only engines who will be utilizing these tanks. Large above and underground generators (diesel powered) will also be using this technology to clean up their exhaust fumes. The engineers at Elkhart Plastics, Inc. can help you design one of these units from scratch or help you modify and existing design. Contact us today by clicking here to get the conversation started.
We are an American company that provides the highest quality rotational molded plastic products. If you are looking for the highest quality partner to manufacturer your Urea tanks we are the clear choice. With our large capacity for production and multiple locations across North America Elkhart Plastics, Inc. can help you accomplish your goals using an American made product.
---