Achieving Uniform Solder Bondline Thickness VIDEO
Featured Product from Indium Corporation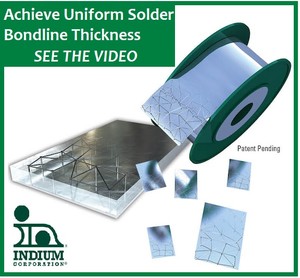 Indium Corporation has launched InFORMS® ESM02, a reinforced matrixed solder composite specifically designed to produce consistent bondline thickness for die-level attach applications.
InFORMS® are reinforced solder preforms that help maintain the required bondline and promote good solder wetting. During the soldering process, the copper does not melt, ensuring that the bondline is maintained across the entire solder joint. This results in:
Improved mechanical and thermal reliability
Uniform bondline thickness
Low-voiding performance
Product Advantages
InFORMS® offer dramatically improved handling when compared to conventional solder alloys or indium-based sheets, foils, ribbons, or large preform materials. InFORMS® also offer increased tensile and compressive strength via the substrate materials, while retaining the unique attributes of the outer layer metal (e.g., the softness, ductility, and other advantages of indium).
Until recently, InFORMS® technology was only applied at the baseplate level. New production capabilities have expanded its use to the die-level with a bondline of 50μm. Other benefits of InFORMS® include:
Drop-in replacement for other bondline control methods
Increased lateral strength
Bondline co-planarity
Improved thermal cycling reliability
Available in ribbon and preforms
Learn more, just watch the video.
Visit our website via links on this page - or email questions, we welcome your inquiries