Custom Solder Pastes & Preforms,
Product Announcement from Indium Corporation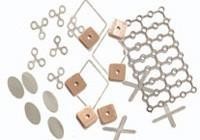 Do you struggle with your solder paste to get consistently good, strong joints due to thinner stencils, smaller components, and smaller boards? Try Indium Corporation's Solder Fortification Preforms. We provide the right alloy with the right volume of solder in tape & reel that will integrate easily into your process.
See the video below "SUPER-FAST Solder Preform Placement"
Solder preforms are manufactured shapes of solder or braze metals designed to fit a specific joint configuration. Preforms contain precise and predetermined quantities of an alloy or a pure metal. They have been used in a variety of applications, such as hybrid and discrete component assembly and surface mount technology.
Used in place of traditional solder forms such as wire and ingot, preforms offer advantages for different applications, including versatility, enhanced production economies and flexibility. Learn more about Solder Preforms
Solder Fortification preforms come in two standard sizes: 0.020"x0.040"x0.019" or 0.030"x0.060"x0.031"; however, many other sizes are available as well. Preforms are made with alloys that are compatible to the solder paste alloy being used. Technical engineers are available to help you select the size and alloy that will work best for your application.
Contact us via e mail or visit Indium's website to read "A Quick Guide to Solder Preforms"
---