Filler Alloys and Consumables your specifications
Featured Product from Indium Corporation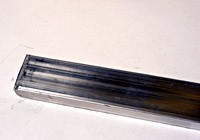 Indium Corporation manufactures custom filler alloys and consumables to match your specifications.
Alloy systems liquid at room temperature have a high degree of thermal conductivity far superior to ordinary non-metallic liquids. This results in the use of these materials for specific heat conducting applications, i.e. for heat dissipation of sensitive components during operation, machining and/or manufacturing.
Other advantages of these liquid alloy systems are their inherent high densities and electrical conductivities. Typical applications for these materials include thermostats, switches, barometers, heat transfer systems, and thermal cooling and heating designs.