Gallium Trichloride, Anhydrous
Featured Product from Indium Corporation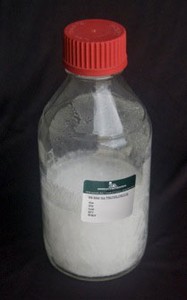 Indium Corporation - Gallium trichloride (GaCl3) dissolves in virtually all solvents and thus is the ideal precursor for gallium derivatives:
Gallium trichloride is the starting material for making gallium-based metal-organic precursors. Tri-methyl gallium (TMG) is the material of choice for MOCVD deposition processes of gallium that are widely used in the compound semiconductor component and LED industries.
Gallium trichloride is a clear or white material with needle shaped crystal. It is a deliquescent material and will fume if it gets exposed to air. We supply gallium trichloride in solid and granulated form, and (typically) at 5N purity.
To learn more about our GaCl3 offerings, contact us today. One of our dedicated engineers will be available to answer any questions you may have regarding gallium trichloride, or its use in semiconductor components or LEDs. Contact us at askus@indium.com.