New Mixed Solder Technology & Drop Shock
Featured Product from Indium Corporation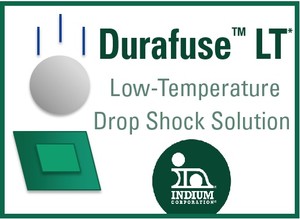 Drop shock is a concern in reliability in the electronics we rely on every day. Solder joints provide the electrical and mechanical bridge between the package & board assembly, and their integrity is vital. Read about the testing on Durafuse™ LT
Durafuse™ LT - a method of combining the low melting temperature of indium-based alloys with the high reliability of a SAC alloy. Solder alloy development is a balancing act between desireable and undesireable properties for each application - and our research team does a great job of that. What our researchers discovered is that when the indium alloy starts melting well before the SAC alloy and fuses with the SAC alloy powder, it form a continuous metal joint that is both strong and durable.
Read about the low melting alloy
The name Durafuse™ LT is derived from Dura or Durable (Definition: able to withstand wear, pressure, or damage) and Fuse (Definition: to join or blend to form a single entity). This perfectly explains the alloy system in that it is fusing 2 different alloys together to form a durable and reliable low temperature solder joint that can withstand drop shock forces. It is also fusing the components to the circuit board in a lasting (or "durable") way, which is essentially the purpose of solder.