Solder Preform Placement...SUPER-FAST
Product Announcement from Indium Corporation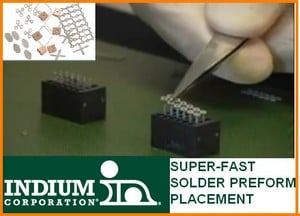 Indium Corporation - Solder preform placement is tremendously faster using InTEGRATED® SOLDER PREFORMS. Don't fumble with every single preform when you can place tens, or hundreds, in one simple motion. Used in a variety of applications that require precise amounts of solder, dimensions can be held to tight tolerances to assure volume accuracy. Scroll down to see the video demonstration - it's FAST
Solder preforms are available in a variety of alloys, including indium, gold, tin, lead, and many others. Solder Preforms come in standard shapes, such as squares, rectangles, washers, and discs. Typical sizes range from 0.010" (.254mm) up to 2" (50.8mm). Smaller and larger sizes, as well as custom shapes, are also available.
Tape and Reel packaging of preforms allows for easier use in high volume and automated manufacturing environments.
Contact us via e mail or visit Indium's website to read "A Quick Guide to Solder Preforms"
---