Solder Preforms - A Primer and Video
Featured Product from Indium Corporation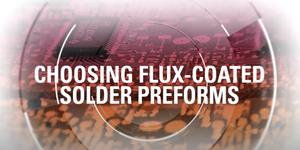 Solder Preforms come in standard shapes such as squares, rectangles, washers and discs. Typical sizes range from .010" (.254mm) up to 2" (50.8mm). Smaller and larger sizes, as well as custom shapes, are also available. Dimensions can be held to tight tolerances to assure volume accuracy.
Read this article and watch the video about Choosing Flux-Coated Solder Preforms.

And access in depth details about alloys and how to select the appropriate solutions for your project.