Unique Properties for Challenging Applications
Featured Product from Indium Corporation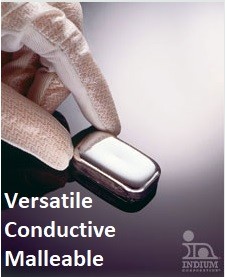 The characteristics of Indium metal are very unusual and deliver the right ingredients & performance in an array of products. Because of its unique properties with virtually limitless applications, indium is literally all around us.
Some of the features and properties are:
Room temperature metallic bonding

Malleable at cryogenic temperatures

Approximately 4x softer than lead

High thermal and electrical conductivity

Full range of allo properties available
In addition to solder alloys, thermal interfaces, and solar cells, indium is used in many other applications that you may not be aware of. Almost all flat screens use indium-tin oxide – you could be looking through up to 4 layers of indium to read this page. Indium is also used to bond non-metallic surfaces, create quantum dots, and build stretchable electrical circuits.
Learn more about the range of applications and how Indium can fit in your products
Reach out to us with your questions "From One Engineer to Another" via the links on this page