Learn More About Inductoheat's Induction Heaters
Featured Product from Inductotherm Group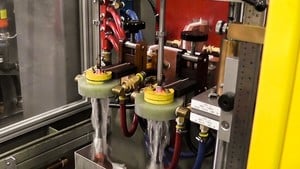 In an industry increasingly dependent on technology advances for the melting, heating, coating, and other thermal treatment of metals, Inductotherm Group stands apart. Our worldwide organization of 40 companies provides innovative engineering expertise that makes a difference. Each product is developed globally, manufactured locally, and supported by Inductotherm Group companies- the name you know and trust.
Inductoheat equipment provides induction heating systems for an array of industries. The advanced Inductoheat equipment technology is compatible in industries such as, wind and turbine, aerospace, bus and truck, automotive, off-road vehicles, marine, railroad, hand tools and mining. Inductoheat provides a family of high quality induction heating systems that meet your process and application requirements:
Heating
Tempering and Annealing
Stress Relieving
Shrink Fitting
Coating and Curling
Radyne equipment also offers the custom products you need to increase productivity in all your induction heating processes. Radyne has the innovative technology you need to complete the job, and stay one step ahead of your competitors. The equipment technology is designed for all your induction heating applications.
Hardening
Tempering
Annealing
Induction power supplies
Coils
Single, dual and multi-axis induction scanners
Conveyor
Rotary
Fully automated robotic systems
Resistance heating systems
Click on our website for more information on Inductoheat and Radyne induction heating. www.inductothermgroup.com