Radyne VersaPower® Xtreme™ Power Supplies
Featured Product from Inductotherm Group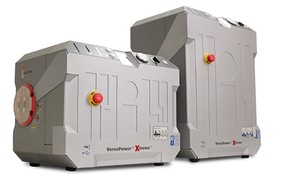 Based on Radyne's new Digital iQ™ control technology the wide range of power and frequencies allow incredible ease of use, advanced communication, control and programming.
Features
Front:
• USB Port
• Emergency Stop
• Digital iQ
• Circuit breaker
Back Side:
• PLC Port
• USB Port
• Ethernet Port
• Water Drain Port
• Water Feed Port
• Lockable Door Panel
With the Versapower® Xtreme™, you'll get Radyne's advanced user friendly Digital iQ™ control. The Digital iQ™ technology is 100% digital and ramps from 0-100% of rated power in under 500 microseconds. Digital iQ™ also offers advanced communication, control, and programing features in multiple frequency ranges for additional ease of use.
Each unit can be operated by direct manual controls on the unit, programmed via an internal digital controller, by a programmable logic controller, or from a remote control box.
Multi-level password protection secures data and can easily be created using the digital interface.