Solutions for Secondary Oil Containment
Featured Product from Industrial Flow Solutions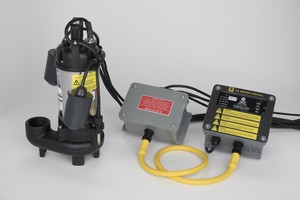 Early detection of an oil spill is critical to preventing harmful pollution and environmental contamination. Secondary Oil Containment solutions must be designed to provide immediate detection of an oil spill to avoid the threat of chemical exposure to human and animal life and destruction of vegetation, as well as service disruption and system downtime. At the same time, company's need to take into consideration the liability and fines associated with non-conformity and damage associated with an oil spill.
CODE COMPLIANCE
The Code of Federal Regulations addresses the discharge, control, and countermeasure plans for oil spills. Originally published in 1973 under the authority of §311 of The Clean Water Act, The Oil Pollution Prevention regulation sets forth requirements for the prevention of, preparedness for, and the response to oil discharges at specific non-transportation related facilities. The goal of this regulation is to prevent oil from reaching navigable waters and adjoining shorelines, and to contain discharges of oil. The regulation requires these facilities to develop and implement Spill Prevention, Control, and Countermeasure (SPCC) plans and establish procedures, methods,
and equipment requirements.
Substances Applicable to Code:
Petroleum and Non-petroleum oils

Crude and Fuel Oil


Sludge

Oil Refuse and Oil mixed with wastes

Synthetic Oil

Animal Fats, Oils and Greases

Vegetable Oils
The federal requirements of the U.S. for discharge, control, and countermeasure plans for oil spills are contained in the Code of Federal Regulations, Title 40 (40CFR), Parts 110 and 112. The regulations only apply if the facility meets the following conditions:
Facilities with above-ground storage capacities greater than
660 gal in a single container or 1320 gal in aggregate storage
OR
Facilities with a total storage capacity greater than 42,000 gal of buried oil storage
The Oil Minder® Solution
Oil Minder® is a pump and control system allowing water to be automatically pumped without danger of ejecting potentially harmful hydrocarbons or oily subtsances into sewers, rivers and waterways.
Designed in compliance to the EPA Spill Prevention, Control and Countermeasure Plan (SPCC), Oil Minder sensing products and controls comply with federal code regulations while minimizing environmental and safety risks.
Oil Minder provides solutions across a wide-range of industries required to meet SPCC, including:
Oil Drilling

Power Generators

Oil Refineries

Airports

Construction Sites

Marines

Fish Canneries

Farms and Ranches

Tank farms
Oil Production
Utilities
How It Works
The real differentiator for Oil Minder is how the control panel interacts with the oil probe and pump to ensure proper performance, redefining expectations for operations and maintenance. Measuring conductivity in a liquid, Oil Minder has proven reliability to differentiate oil and water. Self-cleaning, conductivity probes are maintenance free compared to optical sensors that attract contaminants. The result is a newfound level of safety, maintenance practices, condition monitoring and protection against liability.
KEY ATTRIBUTES
Long Term Durability and Reliability
NEMA 4X weathertight

corrosion resistant polycarbonate enclosures

Stainless Steel sensor probe

with patented electronic technology repelling dirt contamination
Ease of Installation, Maintenance and Increased Operational Safety
Single direct plug-in power source

for operation of entire system offering ease of installation and increased operational safety

Alarms, lights, silence switch,

and remote monitoring circuit for oil, high liquid, and high current

conditions

LED Indicator lights for oil spill, power, high liquid level, overload and pump run.

Solid state

"push to test"

switch conveniently performs all pump and control diagnostic tests

Complete factory assembly

and testing ensures quality of entire pumps and control system.
Oil Minder System can be combined with a variety of different pumps and valves including those that can handle solids.
Early Detection Eliminates Pollution
Early warning is an essential element in risk prevention. Designed to detect the smallest sheen of oil, Oil Minder's patented conductive sensing technology and communication protocols provide very early warning notification. Key personnel are notified immediately of a possible dangerous hazard enabling advance actions. Oil Minder allows for quick and accurate development of a countermeasure plan and provides the following communication protocols:
Pump Failure to Flow

Oil Fault

High Water Alarm

Pump Run Status

Pump Overload

Pump Failure to Start

Float Failures
Customized Solutions
Combining a full portfolio of pumps with the ability to customize controls, Oil Minder offers a solution based on each unique application. Oil Minder includes a pump, floats, oil probe and control panel. Options exist for each component depending on space constraints, location, environmental concerns and/or communication requirements.
Industrial Flow Solutions is committed to providing customized solutions that redefine expectations in the market. With more than 25,000 systems operating reliably in the field, Oil Minder is specifically designed to meet SPCC requirements For more information, please call 860.391.3985 or visit www.flowsolutions.com