Servo controlled registered embossing system
Featured Product from Industrial Indexing Systems, Inc.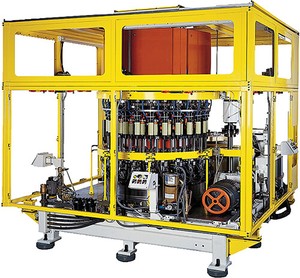 Registered Can Embossing
Design of Advanced Servo System for a Registered Can Embossing Machine for the Beverage Industry
Industrial Indexing Systems recently designed and built an advanced servo controlled registered embossing system for the beverage industry. This automated system embosses a body at production speeds up to 1,500 cans per minute. This IIS system design incorporated 24 servo controllers that were housed within a hexagonal enclosure and placed atop the machine. Also supplied and installed on the actual machine are a touch screen, 24 servo motors, 24 fiber optic sensors, a video-jet printer/encoder, as well as a slip ring assembly.
In addition, six separate enclosures were also built to house four station resolvers that acted as the master for each axis. All servo controllers were designed to communicate thorough a CAN-bus network with the entire motion system interfacing to the overall machine computer, a PLC.
The servo controllers, products of IIS, are part of the DELTAMAX series and provide full motion control flexibility. This flexibility allows the system to register the embossing to the printed material on the can for a perfect alignment. In addition, IIS designed an embedded processor system (RPV-100) that can turn on individual output signals based on the position of the main turret to provide real-time limit switch processing capabilities. This processor system also transmits the precise hour and second information of when each can was produced to a high-speed video-jet printer.
Within 847 milliseconds, this impressive, servo controlled can embossing system can feed a can into the system, register label decoration to a known position, emboss the can, and then release a finished product. IIS handled all enclosure fabrication and rigorous testing of this system in-house, ensuring that this new can embossing servo system fully met required CE compliancy. We now install these can embossing units throughout the globe, including in the US, Mexico, Canada, Australia, Norway, Poland, and Germany.
Product Description
This registered can embossing system produces 1500 cans per minute at a cycle time of 847 milliseconds per can.
Capabilities
Servo System Design
Applied/Processes
Design Incorporated 24 Servo Motors, Servo Drives, and Fiber Optic Sensors
Controls Housed in Hexagonal Enclosure
6 Separate Enclosures House 4 Station Resolver Systems and an Auxiliary Position Resolver
All 24 Position Controllers Communicate Through CAN-bus back to a touch screen PC
Embosser Operates Independent of Customers PLC System
Servo Controllers Provide Full Motion Control Flexibility

For Registering the Embossing to the Printed Material on the can for Perfect Alignment
Designed Embedded Process System (RPV-100)
Provides Real Time Limit Switch Processing to Turn on Individual Output Signals Based on Position of Main Turret
Transmits Production Time Hour and Seconds to the Printer

Enclosures Fabricated by IIS
System Features
Cycle Time Under 847 milliseconds

Can Infeed
Can Pad Lift
Register Label Decoration to Known Position
Emboss
Can Pad Lowered
Finished Can Outfeed

Starwheel Delivery System Separates Printed Cans from Infeed Stream
Vacuum Holds Cans In Position During Embossing
Miniature Sensor Heads Mounted to Each Motor Assembly

Look for Laser Beam Reflected from Cans Surface
Servo Controller Aligns Can with Embossing Tooling
Lines Up Printed Logos and Trademarks

Touch Screen Interface

User can Compensate for Mechanical Harmonics
Review Machine Performance
Communicate through a Variety of Fieldbus Protocols

Each Servo Axis Linked by a CAN-bus Network

Each Servo Station Provides Statistical Performance Criteria
Allows for Greater Quality Control and Tooling Setup Analysis

Prints Current Time to Fraction of a Second onto Each Can Using High Speed Video-jet Printer
In process testing/inspection performed System is Put Through Rigorous In-House Test Cycle Before Shipment
Stay Competitive with Complete Motion Control Solutions
Industrial Indexing Systems, Inc. has over three decades of experience providing state-of-the-art servo motion control products and solutions ideally suited to OEM products. We have been steadily growing since 1977 and since then have become the exclusive distributor for TOEI Electronic Co., Velconic LTD, and Toshiba Machine servo products in North America. As a proud member of Open DeviceNet Vendor Association (ODVA), SERCOS North America (SErial Realtime COmmunication System) and CC-Link Partner Association, we're committed to staying current with the latest advancements in motion control and servo technology. Our major capabilities include:
If you're designing a new generation of machines for your market, or simply trying to upgrade existing products to motion control technology, check with us. We're in our fourth decade of supplying OEMs with cost-effective solutions to their motion control problems. We've helped manufacturers remain competitive in their market by integrating the latest technology into their equipment, including hardware, software and overall system-level solutions.