State-of-the-art controls enable flexible pouching
Featured Product from Industrial Indexing Systems, Inc.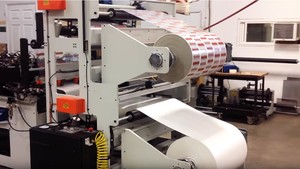 State-of-the-art controls enable flexible pouching
Modern Manufacturing leads the way with pouch making machinery that is flexible to set up and operate, and fast and easy to make product changeovers.
Several different types of flexible pouching machines include mail pouches, liquid pouches and small pouches. These all benefit from advanced automation solutions and servo controls for auxiliary material handling, variable width rolls and data/alarm collection.
Watch>>>Industrial Indexing Systems – creating complete systems to solve your motion control needs
News
Keep up-to-date with the latest news about automation and motion control ... applications, products and company news from Industrial Indexing.
Industrial Indexing Systems
Industrial Indexing has a primary, enduring goal to bring state-of-the-art servo system products to practical use on the factory floor.
Whether it is a complete turnkey system or servo components, IIS' commitment to quality products and personalized support is unsurpassed.
Products
IIS automation and motion control solutions are designed to control high speed, multi-axis production machinery.
Applications
Industrial Indexing has experience and expertise with a wide range of motion control systems ideally suited for OEM machines. Fully engineered systems are turnkey solutions, right down to cabinets and panels from our UL-rated shop.