Magnetic Palletizers and Depalletizers
Featured Product from Industrial Magnetics, Inc.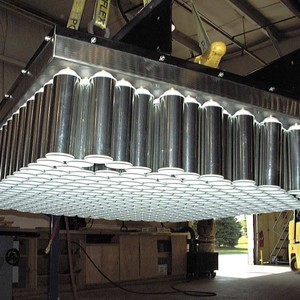 Palletizers/Depalletizers
Designed to increase production and reduce product damage, magnetic palletizers and depalletizers provide a safe and efficient method of transferring any items that are palletized.
Powerful magnetic transfer heads securely move products from accumulators to the shipping containers, without the need for additional holding devices. Both Palletizers and Depalletizers are designed with a pneumatic release, which makes them perfect for automated processes.
Recently reengineered with a powerful magnetic circuit, IMI's new line of Depalletizers have extremely high holding power and are capable of transporting an even wider variety of items.
Benefits
Reliability of a permanent magnet with the ON/OFF capabilities of an electromagnet
Increases production for palletizing or depalletizing steel items
Reduces repetitive labor
Can be used in manual or automated applications
Aids in automated sorting and counting of products
Options
Pendant control system
Custom designed to work with many sizes and shapes of steel parts or products
Applications
IMI's Magnetic Palletizers and Depalletizers are custom designed per your application. At IMI we have engineered and manufactured palletizers and depalletizers for moving products such as:
Brake Drums and Rotors
Empty Food and Beverage Cans
Full Food and Beverage Cans
Paint Cans
Coffee Can Lids
Oil Filters
Steel Rims
Jars with Steel Lids
Batteries
Aeresol Cans
Air Filters
Cylinders
Watch>>>Industrial Magnetics, Inc. - Providing Magnetic Solutions Since 1961
IMI is an industry leader in providing both permanent magnets and electromagnets for work holding, lifting, fixturing, conveying and magnetic separation.
At IMI, our specialty is custom fabricating! We design, engineer and manufacture magnetic assemblies and magnetic separation devices for our customers' specific requirements, and take pride in the quality and performance of our products.
With worldwide distribution through a combination of a direct sales force and manufacturers representatives, we strive to provide personalized service and innovative solutions to meet the exact needs of your application.