Magnetic research and development facility
Service Detail from Industrial Magnetics, Inc.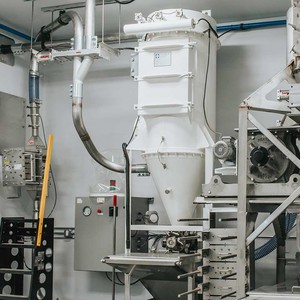 Have a challenging application?
IMI's magnetic research and development facility allows simulated application testing for your prospective holding, lifting, automation, conveying or magnetic separation project.
Our 1,400 sq. ft. onsite lab features hundreds of magnets, test stands, conveying systems, cranes, weigh scales, gauss meters and a PPM analyzer - all designed to replicate your application and assist in choosing the right magnetic product for the job.
Most testing can be wrapped up in 7-10 business days. Upon completion, we'll present you with quantifiable result documentation and product recommendations. You are welcome to join us onsite, or we can videotape and photograph the results and send them to you for your review.
Ready to schedule? Many tests are free of charge, but some more involved procedures may have a fee. Please fill out our contact form, or give Paul Hardy, our R&D Lab Coordinator, a call at 800.662.4638 for detailed information.
Whether you're looking to improve product purity, protect your processing equipment from damage or increase your production rates, IMI Magnets can make your process better.
We look forward to recommending the right solution for your application!
Follow us on:
Watch>>>Industrial Magnetics, Inc. - Providing Magnetic Solutions Since 1961
At Industrial Magnetics, Inc., we provide many off-the-shelf industrial magnet products but it is our ability to provide customer specific solutions to unique problems that sets us apart from others in the industry. We pride ourselves on quickly providing the best possible magnetic solution for our customer's requirements and without sacrificing quality.
With worldwide distribution through a combination of a direct sales force and manufacturers' representatives, we strive to provide personalized service and innovative industrial magnet solutions to meet the exact needs of your application.
Certification And Compliance Initiatives
Industrial Magnetics, Inc. strives to provide our customers with the highest quality products and services. Listed here are just a few of the regulations and practices we comply with to provide users with the safest and most environmentally friendly magnetic products available. Please contact us if you have any questions regarding our manufacturing process and standards compliance.