Band Strap Magnet
Featured Product from Industrial Magnetics, Inc.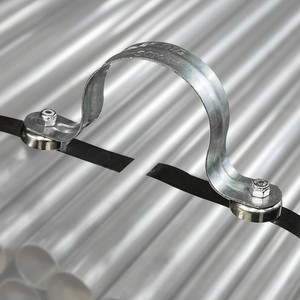 Band Strap Magnet
Powerful magnets on this safety tool securely hold metal banding as it's being cut, stopping it from recoiling and injuring someone as the tension is released.
Two, rare-earth cup magnets are fixed to the ends of a looped handle and placed on top of the band to be cut. As the metal is snipped directly under the handle, the magnets hold the ends in place preventing injury to the operator or anyone standing nearby. Galvanized & plated components allow the tool to be used indoors or out and ensure a long product lifespan.
(2) Powerful, permanent, Rare-Earth magnets
Large, looped handle allows metal cutters to access the banding between the magnets
Galvanized/Plated components can be use inside or outside
Watch>>>Industrial Magnetics, Inc. - Providing Magnetic Solutions Since 1961
IMI is an industry leader in providing both permanent magnets and electromagnets for work holding, lifting, fixturing, conveying and magnetic separation.
At IMI, our specialty is custom fabricating! We design, engineer and manufacture magnetic assemblies and magnetic separation devices for our customers' specific requirements, and take pride in the quality and performance of our products.
With worldwide distribution through a combination of a direct sales force and manufacturers representatives, we strive to provide personalized service and innovative solutions to meet the exact needs of your application.
Certification And Compliance Initiatives
Industrial Magnetics, Inc. strives to provide our customers with the highest quality products and services. Listed here are just a few of the regulations and practices we comply with to provide users with the safest and most environmentally friendly magnetic products available. Please contact us if you have any questions regarding our manufacturing process and standards compliance.