Bullet® Magnet Separator
Featured Product from Industrial Magnetics, Inc.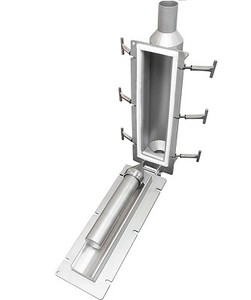 Bullet® Magnet Separator from Industrial Magnetics Now Offers 28 Lbs. Pull and over 12,000 Gauss
Industrial Magnetics, Inc. has improved the holding strength of its Rare Earth Bullet® Magnet separator, designed to capture ferrous metal contaminants in powder and bulk, pneumatic-line processing applications.
The enhanced Bullet circuit incorporates an optimized, 52 MgOe Rare Earth magnetic design and achieves 28 lbs. of nominal pull value on a 1/2" ball - the highest value of any 3" circuit available in the market. Combined with a boosted gauss averaging 12,385, the design improvements offer the strongest and most effective solution to capture ferrous pieces, as well as smaller fines and weakly magnetic contaminants in a pneumatic line application.
The Bullet's industry-unique stripper collar, used to clean captured metal contamination from the device, also contributes to the holding strength and effectiveness of the magnet. Similar magnet designs on the market use a cleaning sleeve over the entire magnetic circuit, thereby creating an "air gap" and a subsequent loss of holding value.
Ideal for dilute phase pneumatic systems, typical Bullet® magnet applications include processing of dry, powder and granular materials. It can be used ahead of processing equipment and bulk load out to ensure product purity and protect machinery from tramp metal damage.
For more information, visit the Bullet® Magnet product page
Watch>>>Industrial Magnetics, Inc. - Providing Magnetic Solutions Since 1961
IMI is an industry leader in providing both permanent magnets and electromagnets for work holding, lifting, fixturing, conveying and magnetic separation.
At IMI, our specialty is custom fabricating! We design, engineer and manufacture magnetic assemblies and magnetic separation devices for our customers' specific requirements, and take pride in the quality and performance of our products.
With worldwide distribution through a combination of a direct sales force and manufacturers representatives, we strive to provide personalized service and innovative solutions to meet the exact needs of your application.
Certification And Compliance Initiatives
Industrial Magnetics, Inc. strives to provide our customers with the highest quality products and services. Listed here are just a few of the regulations and practices we comply with to provide users with the safest and most environmentally friendly magnetic products available. Please contact us if you have any questions regarding our manufacturing process and standards compliance.