Cantilever clamps that do not twist
Featured Product from Industrial Magnetics, Inc.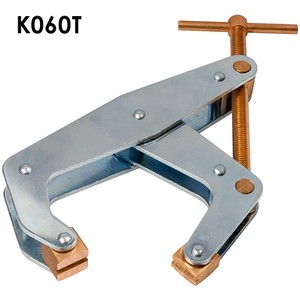 Literature Download: Kant-Twist™ Cantilever Clamps
Cantilever clamps that do not twist
Kant-Twist™ Cantilever Clamps offer several advantages over standard C-Clamps - they're lighter, stronger and won't walk-off-center! Perfect for spot welding, drilling, bolting - or anywhere you need to hold two pieces firmly together.
The Kant-Twist's innovative cantilever design eliminates the problematic distorting and twisting of your work pieces and provides a strong, 4:1 clamp ratio. The free floating jaws easily adjust to uneven surfaces while offering three different gripping faces to meet your application needs; knurled, smooth and V-slot for holding round stock.
For welding applications, choose a Kant-Twist™ model with copper plated jaws, screw and handle to prevent weld spatter from sticking. If you need precise control over the holding pressure on your material, choose the "Round Handle" for fine tuning capability. The "Deep Throat" model gives you farther reach onto your material for better holding and the "Stainless Steel" model is ideal for clamping material in corrosive or sanitary environments or for use in magnetic applications.
Won't walk off-center
Much lighter than C-Clamps
Greater clamping power
Made in USA!
Magnetic Solutions By Industry
You will find hundreds of Industrial Magnetics, Inc's off the shelf magnetic products used in industries hundreds of products used various industries. However, it is our ability to design and manufacturer custom magnetic solutions for your specific situation in any industry.
Industrial Magnetics, Inc. provides solutions that help improve productivity, purify products, protect processing equipment, increase profits and create a safer and more ergonomic manufacturing process.
Watch>>>Industrial Magnetics, Inc. - Providing Magnetic Solutions Since 1961
IMI is an industry leader in providing both permanent magnets and electromagnets for work holding, lifting, fixturing, conveying and magnetic separation.
At IMI, our specialty is custom fabricating! We design, engineer and manufacture magnetic assemblies and magnetic separation devices for our customers' specific requirements, and take pride in the quality and performance of our products.
With worldwide distribution through a combination of a direct sales force and manufacturers representatives, we strive to provide personalized service and innovative solutions to meet the exact needs of your application.