Clamps Aid Foreign Object Detection Prevention
Featured Product from Industrial Magnetics, Inc.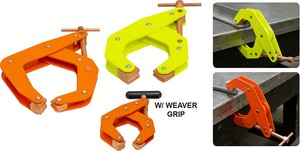 IMI's New Hi-Vis, KANT-TWIST-Twist® Clamps Aid FOD Prevention Initiatives
Industrial Magnetics, Inc. recently expanded its line of KANT-TWIST-Twist® Cantilever Clamps with the introduction of several Hi-Vis models to aid Foreign Object Detection (FOD) initiatives with tools.
Typically used in a variety of clamping applications, the KANT-TWIST-Twist's innovative, cantilever design and free-floating jaws offer several advantages over standard C-clamps by eliminating the typical distorting and twisting of work-pieces when clamping and easily adjusting to uneven surfaces.
The new, bright orange and yellow models offer high visibility, making them easy to spot and difficult to leave behind in crowded or sensitive work areas. The Hi-Vis line is especially suited for use in FOD control areas, such as engine maintenance, where forgotten tools could cause major equipment damage and hazardous conditions.
Both Hi-Vis clamp colors are available in 2-1/2", 4-1/2" and 6" copper-plated jaw sizes, and with or without a weaver grip handle.
IMI's brand manager, Peter Friedrich, commented, "We've received a lot of positive feedback on these products. Users gave a thumbs up to their quality and durability and loved how the bright colors would make them easy to find among their other tools."
For more information, visit the KANT-TWIST-Twist Cantilever Clamp product page
Watch>>>Industrial Magnetics, Inc. - Providing Magnetic Solutions Since 1961
IMI is an industry leader in providing both permanent magnets and electromagnets for work holding, lifting, fixturing, conveying and magnetic separation.
At IMI, our specialty is custom fabricating! We design, engineer and manufacture magnetic assemblies and magnetic separation devices for our customers' specific requirements, and take pride in the quality and performance of our products.
With worldwide distribution through a combination of a direct sales force and manufacturers representatives, we strive to provide personalized service and innovative solutions to meet the exact needs of your application.
Certification And Compliance Initiatives
Industrial Magnetics, Inc. strives to provide our customers with the highest quality products and services. Listed here are just a few of the regulations and practices we comply with to provide users with the safest and most environmentally friendly magnetic products available. Please contact us if you have any questions regarding our manufacturing process and standards compliance.