FXE Remote-Control Permanent Lifting Magnet
Featured Product from Industrial Magnetics, Inc.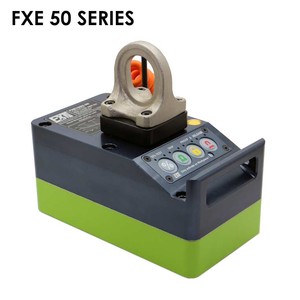 IMI Announces Availability of the FXE Remote-Control Permanent Lifting Magnet
ndustrial Magnetics, Inc. of Boyne City, MI recently announced the availability of the FXE line of remote-controlled lifting magnets.
Combining the cost-efficiency and safety of a permanent magnet for load handling with the controlled-release capability of an electromagnet, the FXE uses virtually no energy and does not require a battery backup system. They're ideal for lifting applications that require fast cycle times - without the operator having to touch the load.
The FXE's allow the operator to pick-up ferrous metal sheets or parts and safely release them with the push of a button. Pickup and release functions can be performed by using the wireless remote control or direct activation from the magnet's on-board control buttons. All labels and controls are located on top of the magnet, which gives the operator easier access and visibility, allows the magnet to fit into tight spots, and limits the risk of damage to the controls.
A built-in load sensor prevents the load from being released until it's at rest and the fail-safe permanent magnet design securely holds the load in the event power is lost.
Nine different models with working load limits of 660 - 10,580 lbs. are available for same-day shipping.
For more information, please visit the FXE Lift Magnet product page
Watch>>>Industrial Magnetics, Inc. - Providing Magnetic Solutions Since 1961
IMI is an industry leader in providing both permanent magnets and electromagnets for work holding, lifting, fixturing, conveying and magnetic separation.
At IMI, our specialty is custom fabricating! We design, engineer and manufacture magnetic assemblies and magnetic separation devices for our customers' specific requirements, and take pride in the quality and performance of our products.
With worldwide distribution through a combination of a direct sales force and manufacturers representatives, we strive to provide personalized service and innovative solutions to meet the exact needs of your application.
Certification And Compliance Initiatives
Industrial Magnetics, Inc. strives to provide our customers with the highest quality products and services. Listed here are just a few of the regulations and practices we comply with to provide users with the safest and most environmentally friendly magnetic products available. Please contact us if you have any questions regarding our manufacturing process and standards compliance.