FX Permanent Rare-Earth Lifting Magnets
Featured Product from Industrial Magnetics, Inc.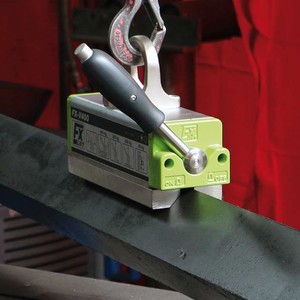 These on/off permanent lifts offer strength in a lightweight, compact package. Each line of lifting magnets in the FX family of products has been specifically designed for maximum performance by user application. The size, shape and dimension of the parts you'll primarily be lifting - whether flat, curved, or circular-shaped - will determine the best FX lift magnet for you.
On all magnets in the series, the unique handle design only requires a 90° rotation to either engage or disengage the magnet (versus the 120° or even 180° required on most on/off lifting magnets), making it easy for operators to use in applications where the magnet is lifting something from inside a bin or a deep trough. The handle also features a positive lock-on/lock-off mechanism that requires the operator to manually switch between the two states. This prevents the handle from being turned only partially on, or from being accidentally bumped to the "off" position and dropping the load pre-maturely.
ON/OFF, Rare-Earth Permanent Magnet
Handle locks in both the On & Off positions for safety
Lifts flat sheets or curved pipe
Heat resistant up to 180° F (82° C)
3:1 design factor
Meets 2018 ASME B30.20 BTH-1 Design Category B Service Class
Watch>>>Industrial Magnetics, Inc. - Providing Magnetic Solutions Since 1961
IMI is an industry leader in providing both permanent magnets and electromagnets for work holding, lifting, fixturing, conveying and magnetic separation.
At IMI, our specialty is custom fabricating! We design, engineer and manufacture magnetic assemblies and magnetic separation devices for our customers' specific requirements, and take pride in the quality and performance of our products.
With worldwide distribution through a combination of a direct sales force and manufacturers representatives, we strive to provide personalized service and innovative solutions to meet the exact needs of your application.
Certification And Compliance Initiatives
Industrial Magnetics, Inc. strives to provide our customers with the highest quality products and services. Listed here are just a few of the regulations and practices we comply with to provide users with the safest and most environmentally friendly magnetic products available. Please contact us if you have any questions regarding our manufacturing process and standards compliance.