Foot Pull for Doors
Featured Product from Industrial Magnetics, Inc.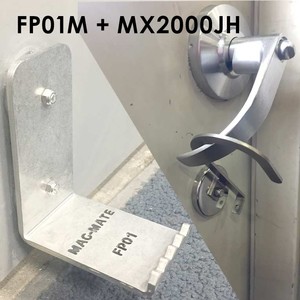 100% of profits earned from the sale of the FP01 and FP01M will be donated to local food pantries.

Foot Pull for Doors
This hands-free device lets you gently pull or push open doors using the sole of your shoe - so users don't have to touch potentially contaminated surfaces and can help stop the further spread of germs and bacteria.
Perfect for public restrooms, office buildings and shop floors. Prevents shoe damage and can be used with open toe shoes. Constructed from heavy duty, stainless steel as a one piece, laser-cut and precision formed unit.
For Non-Latching Doors:
The Foot-Pull is all you'll need. Available with either magnetic mount for metal doors(FP01M), which attaches in seconds and can be repositioned to the perfect spot, or direct through-hole mount for non-metal doors(FP01).
For Latching Doors with Lever-Style Handles:
For latching doors with lever-style handles, our Universal J-Hook product can be used to hold the door handle in the open position - converting it into a non-latching style door that can now be used in conjunction with the Foot-Pull. The Universal J-Hook(MX2000JH) attaches directly to steel doors. For non-steel doors, use it in combination with our Magnetic-Stainless Disk(MX0870) that you can mount to your door as an attachment base for the J-Hook.
Foot-Pull Features:
Sturdy, one-piece, Stainless Steel construction
Use the bottom of the shoe, protecting toes
Indoor or Outdoor use
Powerful magnet mount installs in seconds and can be repositioned
Direct mount, two mounting holes, 2.75" center line, hardware not included
USA M.A.D.E™
Literature Download: Foot Pull for Doors
Watch>>>Industrial Magnetics, Inc. - Providing Magnetic Solutions Since 1961
IMI is an industry leader in providing both permanent magnets and electromagnets for work holding, lifting, fixturing, conveying and magnetic separation.
At IMI, our specialty is custom fabricating! We design, engineer and manufacture magnetic assemblies and magnetic separation devices for our customers' specific requirements, and take pride in the quality and performance of our products.
With worldwide distribution through a combination of a direct sales force and manufacturers representatives, we strive to provide personalized service and innovative solutions to meet the exact needs of your application.
Certification And Compliance Initiatives
Industrial Magnetics, Inc. strives to provide our customers with the highest quality products and services. Listed here are just a few of the regulations and practices we comply with to provide users with the safest and most environmentally friendly magnetic products available. Please contact us if you have any questions regarding our manufacturing process and standards compliance.