Magnetic Welding Squares
Featured Product from Industrial Magnetics, Inc.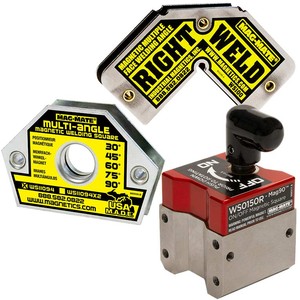 Welding Squares are available in Standard (always on) or Switchable On/Off models. Our standard Magnetic Welding Squares are now made in the USA! Ideal for welders that need fast set-up and accurate holding of sheet stock or tubing. Ferrous stock can be securely held at angles of 30°, 45°, 60°, 75°, 90° and 180°. Mounting holes are provided for fixturing squares into jigs.
Large finger hole for easy setup and removal
Through Holes for easy mounting and fixturing
Plated vs. painted steel poles maintain a clean, non-rust surface
Fuzz Iron reduction covers on models: WS410, WS420, WS810 & WS820
Breakaway handle on most powerful versions: WS420, WS810 & WS820
Made In USA (USA M.A.D.E.™)
3-Axis Kit for standard Weld Squares
The 3-Axis kit (WS3XK01) uses powerful permanent Rare Earth magnets inside an aluminum cup to hold a third steel surface during welding operations.The kit fits all standard "Always-On" Mag-Mate® welding squares. Kits include magnets and mounting hardware (Weld Square sold separately).
Mag90™ - Switchable On/Off Magnetic Welding Squares and Fixture
MagnetsMag90™ Magnetic Welding Squares
The switchable Mag90™ On/Off Permanent Rare Earth Magnetic Squares are extremely powerful and eliminate the need for tedious clamping. These squares offer fast work-holding on multiple sides for flat or round steel. Features pre-tapped holes on all sides for mounting and a locking On/Off handle for safety.
•Fuzz iron is easy to clean when magnet is switched off
•Work holding on three sides
•Works with on flat or round steel
Mag90™ - Multi-Angle Magnetic Welding Squares
The WSM0150R and WSM0150RG feature 5 common angles: 45, 75, 90 105 & 135 degrees. The WSM0150RG is dual-purpose as a weld angle and a 300 AMP ground.
Magnetic Solutions By Industry
You will find hundreds of Industrial Magnetics, Inc's off the shelf magnetic products used in industries hundreds of products used various industries. However, it is our ability to design and manufacturer custom magnetic solutions for your specific situation in any industry.
Industrial Magnetics, Inc. provides solutions that help improve productivity, purify products, protect processing equipment, increase profits and create a safer and more ergonomic manufacturing process.
Watch>>>Industrial Magnetics, Inc. - Providing Magnetic Solutions Since 1961
IMI is an industry leader in providing both permanent magnets and electromagnets for work holding, lifting, fixturing, conveying and magnetic separation.
At IMI, our specialty is custom fabricating! We design, engineer and manufacture magnetic assemblies and magnetic separation devices for our customers' specific requirements, and take pride in the quality and performance of our products.
With worldwide distribution through a combination of a direct sales force and manufacturers representatives, we strive to provide personalized service and innovative solutions to meet the exact needs of your application.