NEW LINE of copper-plated magnetic welding squares
Featured Product from Industrial Magnetics, Inc.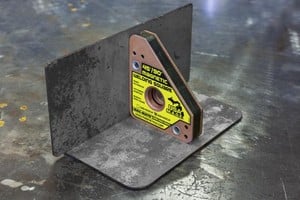 Industrial Magnetics, Inc. recently announced a new line of copper-plated magnetic welding squares that resist corrosion and prevent weld spatter from sticking to its surface.
Due to the highly conductive properties of copper, the heat from small particles of weld spatter that may hit the face of the welding square will be quickly conducted away, thereby preventing bonding of the materials. As copper is also naturally corrosion-resistant, the plated squares offer a durable and long-lasting product life.
The new copper-plated magnetic squares are available in four models for the secure and accurate holding of sheet stock or tubing in a variety of angles, including 30°, 45°, 60° or 90°. Mounting holes are provided for fixturing the squares into jigs, and a large finger hole is provided for easy setup and removal of the square from a metal surface. Model 410 also offers a covered magnet face, for easy removal of fuzz iron that may have attracted to the magnet.
Watch>>>Industrial Magnetics, Inc. - Providing Magnetic Solutions Since 1961
IMI is an industry leader in providing both permanent magnets and electromagnets for work holding, lifting, fixturing, conveying and magnetic separation.
At IMI, our specialty is custom fabricating! We design, engineer and manufacture magnetic assemblies and magnetic separation devices for our customers' specific requirements, and take pride in the quality and performance of our products.
With worldwide distribution through a combination of a direct sales force and manufacturers representatives, we strive to provide personalized service and innovative solutions to meet the exact needs of your application.
Certification And Compliance Initiatives
Industrial Magnetics, Inc. strives to provide our customers with the highest quality products and services. Listed here are just a few of the regulations and practices we comply with to provide users with the safest and most environmentally friendly magnetic products available. Please contact us if you have any questions regarding our manufacturing process and standards compliance.