New Magnetic V-Pad Clamps
Featured Product from Industrial Magnetics, Inc.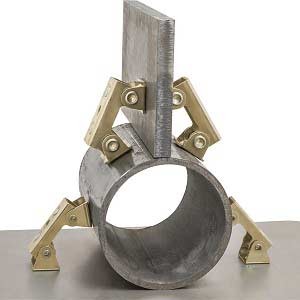 New Magnetic V-Pad Clamps Offer Welders Fast, Versatile Holding Options
Industrial Magnetics, Inc. recently introduced Magnetic V-Pad Clamps for welders who are looking for a fast, low-profile, and versatile holding solution for their workpieces.
The V-Pads' dual, pivoting, magnetic-heads can position and hold angles up to 180°. Each V-pad contains four, powerful magnets - two on its back, and one on each pivoting foot, giving the welder several options for holding configurations.
Quick to set up and great for repetitive applications, they're easy to position and work on flat, angled or round stock.
Pete Friedrich, IMI's strategic accounts manager, states, "I think these handy, magnetic v-pad clamps are one of the best tools a welder could have in their arsenal when performing small, light-duty, or intricate work. They're especially useful for cradling pipe or tubes, as this magnet style lets you rotate the tubing so you can seam weld the pipe or tube ends."
V-pads are available in two different sizes and holding strengths and come in sets of two.
For additional product information, visit the Magnetic V-Pad Clamp webpage
Watch>>>Industrial Magnetics, Inc. - Providing Magnetic Solutions Since 1961
IMI is an industry leader in providing both permanent magnets and electromagnets for work holding, lifting, fixturing, conveying and magnetic separation.
At IMI, our specialty is custom fabricating! We design, engineer and manufacture magnetic assemblies and magnetic separation devices for our customers' specific requirements, and take pride in the quality and performance of our products.
With worldwide distribution through a combination of a direct sales force and manufacturers representatives, we strive to provide personalized service and innovative solutions to meet the exact needs of your application.
Certification And Compliance Initiatives
Industrial Magnetics, Inc. strives to provide our customers with the highest quality products and services. Listed here are just a few of the regulations and practices we comply with to provide users with the safest and most environmentally friendly magnetic products available. Please contact us if you have any questions regarding our manufacturing process and standards compliance.