New Round Drawer Magnet
Featured Product from Industrial Magnetics, Inc.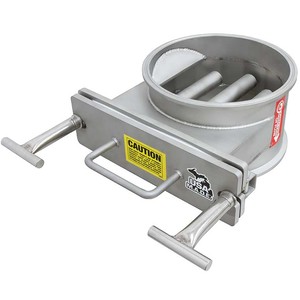 New Round Drawer Magnet for Space-Constrained Applications
IMI recently announced the addition of a round-shaped Drawer-in-Housing for the separation of ferrous metal contaminants in dry, free-flowing, powder and granular processing applications.
The round Drawer-In-Housing series is ideal for retrofit situations in gravity-fed systems where vertical space is limited. It eliminates the need for the "round-to-square" transitions that would be necessary on the inlet and outlet of square-drawer models, thereby reducing the overall vertical space needed for installation.
The product features two rows of magnetic tubes with 52 Grade Rare Earth, Opti-B™ balanced circuits - a high-performance blend of 9,500 gauss and 16.7 lbs. of pull strength on a 1/2" ball.
The two rows of tubes are aligned on alternating centers, forcing the product to flow in a zigzag pattern over the magnetic tubes. This cascade effect ensures maximum tramp metal separation, as the product has repeated contact with the magnetic tubes. For applications with height constraints, a low-profile model containing one row of magnetic tubes is also available.
Other features include an all-welded, food-grade, stainless-steel housing and a silicone gasket with T-handle clamps for positive sealing. Sidewall diverters increase product contact with magnetic surfaces, and a drawer guard prevents product from shelving.
The Round Housing is offered in standard inlet/outlet sizes of 4", 5", 6" and 8" diameter and available options include: inlet and/or outlet flanges, tubes located on 3" centers for difficult flowing products, wear-resistant coating for abrasive products, and sanitary construction to meet USDA, HACCP or other regulatory requirements.
For additional product information, please visit the Magnetic Drawer-in-Housing page
Watch>>>Industrial Magnetics, Inc. - Providing Magnetic Solutions Since 1961
IMI is an industry leader in providing both permanent magnets and electromagnets for work holding, lifting, fixturing, conveying and magnetic separation.
At IMI, our specialty is custom fabricating! We design, engineer and manufacture magnetic assemblies and magnetic separation devices for our customers' specific requirements, and take pride in the quality and performance of our products.
With worldwide distribution through a combination of a direct sales force and manufacturers representatives, we strive to provide personalized service and innovative solutions to meet the exact needs of your application.
Certification And Compliance Initiatives
Industrial Magnetics, Inc. strives to provide our customers with the highest quality products and services. Listed here are just a few of the regulations and practices we comply with to provide users with the safest and most environmentally friendly magnetic products available. Please contact us if you have any questions regarding our manufacturing process and standards compliance.