No Bounce, Sparking or Maring Safety Hammers
Featured Product from Industrial Magnetics, Inc.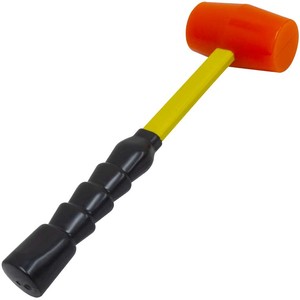 The NO-MAR® no bounce, non-sparking, Polyurethane safety hammer. Soft faced hammers feature a solid, polyurethane head, which absorbs shock and reduces rebound when striking the workpiece. The fiberglass handle has a shock-absorbent, ergonomic grip for comfort and reduced vibration in your hand. This is a true safety hammer. Not only is it non-sparking, but unlike traditional dead blow hammers that contain filler particles that could come loose, our hammer's solid construction prevents foreign material contamination.
Features
True Safety Hammer (No Steel, Non-Sparking)
High Performance, Non-Marring Urethane Head. Shore A70
Fiberglass Handle with Ergonomic Grip
Absorbs Recoil Shock
Made in USA!
Watch>>>Industrial Magnetics, Inc. - Providing Magnetic Solutions Since 1961
IMI is an industry leader in providing both permanent magnets and electromagnets for work holding, lifting, fixturing, conveying and magnetic separation.
At IMI, our specialty is custom fabricating! We design, engineer and manufacture magnetic assemblies and magnetic separation devices for our customers' specific requirements, and take pride in the quality and performance of our products.
With worldwide distribution through a combination of a direct sales force and manufacturers representatives, we strive to provide personalized service and innovative solutions to meet the exact needs of your application.