Sanitary Grade Hump Magnet Separators
Featured Product from Industrial Magnetics, Inc.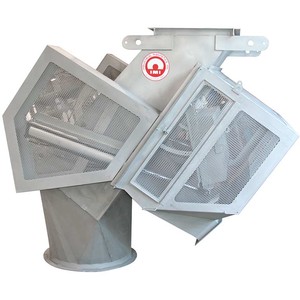 Hump Magnet
Ideal for ferrous tramp metal separation in gravity systems, IMI Hump Magnet separators are adaptable to either round pipe or rectangular chute transfer lines.
The Hump magnet employs two heavy duty diverter-equipped Spout Magnets, which are positioned so that the offset flow of product flowing through the hump is forced into the magnetic fields. The hinged magnets are gasketed and clamped tightly to the hump housing for maximum product and dust containment during processing operations. They also swing open for easy removal of captured tramp metal.
Ruggedly constructed from stainless steel with a welded flange mounting system to fit either chute or pipe applications, IMI Hump separators are available in nine standard sizes with Custom sizes available upon request.
Our Sanitary Grade Hump Magnets are certified by HAACP International as suitable for direct contact with food products and for use in the operation of a HACCP based Food Safety Program.
Literature Download: Hump Magnet
For more information on Industrial Magnetics, Inc.'s magnetic separation products or their "Plant Audit" or "Preventative Maintenance" programs, please call 888.582.0821.
Watch>>>Industrial Magnetics, Inc. - Providing Magnetic Solutions Since 1961
IMI is an industry leader in providing both permanent magnets and electromagnets for work holding, lifting, fixturing, conveying and magnetic separation.
At IMI, our specialty is custom fabricating! We design, engineer and manufacture magnetic assemblies and magnetic separation devices for our customers' specific requirements, and take pride in the quality and performance of our products.
With worldwide distribution through a combination of a direct sales force and manufacturers representatives, we strive to provide personalized service and innovative solutions to meet the exact needs of your application.