When tramp metal protection is required
Featured Product from Industrial Magnetics, Inc.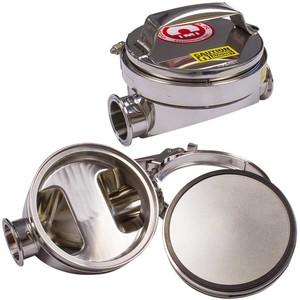 Industrial Magnetics, Inc.'s Liquid line T-Traps remove unwanted ferrous and work-hardened stainless contaminants from processing lines. They capture fine ferrous particles that are created by wear of upstream processing equipment and often pass undetected through electronic metal detectors. T-Traps are typically placed in front of pumps, screens and mills to protect vital plant equipment from costly metal damage and system downtime.
Plate Style Liquid Line T-Traps are recommended for low volume applications requiring gentle flow characteristics or for fragile products that may contain long, sinewy items, larger chunks and hard-to-move products such as fruit preserves, cooked meat chunks and cottage cheese.
USDA Approved, 316 stainless steel sanitary construction
Powerful Rare Earth Magnetic Circuit
Quick clamp system on magnetic filter cap
Standard line sizes from 1.5" - 6" (other sizes available)
Designed for line pressures up to 200 psi (high pressure options available)
Inlet/Outlet ferrules for clamping (Tri-Clamp and weld ends are standard)
EPDM Standard Gasket Material (BUNA-N & VITON available)
Standard maximum operating temperatures of 220°F (104°C)
Installation of the Plate Style magnet can be in any position. For complete body drainage (no sump area), install T-Traps in vertical lines. Installation locations must allow access for cleaning collected metal from the magnet(s). T-Traps can also be mounted in horizontal or sloped lines without affecting the magnetic efficiency.
Literature Download: Plate Style T-Trap
Magnetic Solutions By Industry
You will find hundreds of Industrial Magnetics, Inc's off the shelf magnetic products used in industries hundreds of products used various industries. However, it is our ability to design and manufacturer custom magnetic solutions for your specific situation in any industry.
Industrial Magnetics, Inc. provides solutions that help improve productivity, purify products, protect processing equipment, increase profits and create a safer and more ergonomic manufacturing process.
Watch>>>Industrial Magnetics, Inc. - Providing Magnetic Solutions Since 1961
IMI is an industry leader in providing both permanent magnets and electromagnets for work holding, lifting, fixturing, conveying and magnetic separation.
At IMI, our specialty is custom fabricating! We design, engineer and manufacture magnetic assemblies and magnetic separation devices for our customers' specific requirements, and take pride in the quality and performance of our products.
With worldwide distribution through a combination of a direct sales force and manufacturers representatives, we strive to provide personalized service and innovative solutions to meet the exact needs of your application.