Ideal as a Tray or Rack Liner for Food Products
Product Announcement from Industrial Netting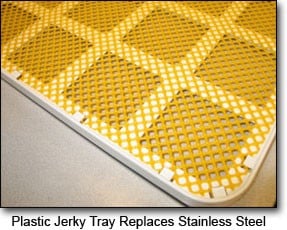 Handling, Processing and Dehydrating
Durable FDA approved polypropylene netting is ideal as a tray or rack liner for a variety of food products - especially as a dehydration tray liner for fruits and nuts, meats and jerky during the dehydrating or drying process. Industrial Netting plastic netting is a clean surface that allows air and liquid to circulate freely while separating cuts and pieces throughout processing.

Whether you're dehydrating fruits, nuts and meats – we have a mesh size and thickness to fit your food processing application. Wherever an open mesh surface liner is needed for air and liquid circulation – Industrial Netting has a solution.

Plastic mesh can be custom cut to fit a wide range of chrome or stainless steel shelves, trays and racks. Our Polypropylene (PP) and Polytetrafluoroethylene (PTFE) nettings are made from resins that comply with FDA regulations for food contact. And, they are designed to be used with UL Listed dehydrators. Or choose from a variety of premium high-temperature meshes with heat resistant properties that are superior to polypropylene.
Rack Liners & Dehydration Trays from Industrial Netting
made from resin that is FDA certified for food contact
easy to clean
reusable
easy to handle and fabricate
order full rolls or custom cut-to-size pieces
Pizza Net
Use polypropylene mesh pizza net in place of cardboard. Pizza net won't absorb grease like corrugated liners. Helps keep crusts crispy and delicious.

Pizza net is made from resin that is FDA certified for food contact. Pizza net should be used for packaging and delivery. Not suitable for use in ovens.
Nothing But Net
Welcome to Industrial Netting,
Plastic mesh, grids and elastic tubular sleeves for parts protection and packaging as well World's largest inventory of plastic netting, mesh and tubesas containment rack netting for safety - garden net , mulch and compost containment, and bird netting for pest control - aquaculture cages, traps and predator pond covers for fish farming - recycling containment netting for scrap cars - open mesh plastic tubing, filters and screens for filtration - even stainless steel mesh and sieves, and electroformed precious metal screens
Industrial Netting was founded in 1981 as InterNet, Inc. to serve the converting and distribution needs of customers for specialty netting and mesh products. The company's goal, then and now, is to provide high quality products, custom converting and quick delivery.

Through the efforts of an attentive and conscientious management and workforce, the company has built a quality reputation in the wide variety of markets. Industrial Netting has become a major supplier of netting and mesh components to the filtration industry, as well as other industrial and commercial marketplaces.
Industrial Nettting:Netting, Mesh and Screens for Industry
Custom Convert& Ship within 24 hours
Solutions For:
---