Let us do the custom converting!
Service Detail from Industrial Netting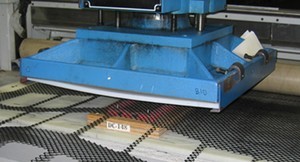 Make it easy on yourself! Let us do the custom converting. Years of experience led Industrial Netting to develop custom equipment and unique manufacturing techniques that insure consistent quality at an economical price point. Out-source those cumbersome secondary operations by choosing from a variety of our custom converting services.
SERVICE AND DELIVERY:
PACKAGING

- Custom packaging and labeling to your specifications (plastic cores, double poly bags, cartons, etc.).

INVENTORY

- Most extensive inventory of extruded and oriented netting, and plastic tubing anywhere.

BLANKET ORDERS

- Make ordering easy for you.

ON-TIME DELIVERY

- Record of consistent, reliable on-time delivery. JIT shipments available. NEXT DAY shipments of in-stock products.

CUSTOMER SERVICE

- Experienced, dedicated customer service, sales and marketing support.

SAMPLES

- Contact us to discuss your application. We'll be happy to rush you FREE samples.
Nothing But Net
Welcome to Industrial Netting,
Plastic mesh, grids and elastic tubular sleeves for parts protection and packaging as well World's largest inventory of plastic netting, mesh and tubesas containment rack netting for safety - garden net , mulch and compost containment, and bird netting for pest control - aquaculture cages, traps and predator pond covers for fish farming - recycling containment netting for scrap cars - open mesh plastic tubing, filters and screens for filtration - even stainless steel mesh and sieves, and electroformed precious metal screens
Industrial Netting was founded in 1981 as InterNet, Inc. to serve the converting and distribution needs of customers for specialty netting and mesh products. The company's goal, then and now, is to provide high quality products, custom converting and quick delivery.

Through the efforts of an attentive and conscientious management and workforce, the company has built a quality reputation in the wide variety of markets. Industrial Netting has become a major supplier of netting and mesh components to the filtration industry, as well as other industrial and commercial marketplaces.
Industrial Nettting:Netting, Mesh and Screens for Industry
Custom Convert& Ship within 24 hours
Solutions For:
CONTACT US: Need help choosing the right product? Need free samples? Need a quotation for one of our products? Or would you like to send us a sample of your material for evaluation?
---