Digital iGMR sensor for functional safety
Featured Product from Infineon Technologies AG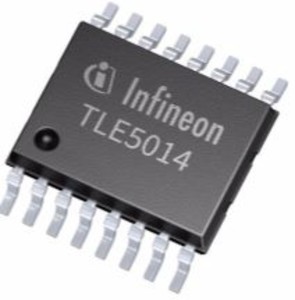 All XENSIV™ TLE5014 angle sensors are available as single and dual die products. The products come pre-configured and precalibrated as plug-and-play sensors – and are thus easy to use. Today, customers can choose between the interfaces SENT, PWM and SPC. On top of those protocol options, the sensors can be adapted to any kind of application setup via their programmable E²PROM interfaces.

TLE5014 offers highest functional safety grading with an easy-to-use concept.
TLE5014 magnetic angle sensors meet ISO 26262 ASIL C for the single die and ISO 26262 ASIL D for the dual die versions. Therefore, all products are ready for applications with the highest functional safety requirements. The sensors show an extremely small angle error of less than 1° across the entire temperature profile and lifetime.
Benefits:
Easy-to-use plug & play concept leads to minimized development time and effort
Easy adaption of the products to the customer's application due to the high flexibility: single and dual die products, different interface options, programmable E2PROM and look-up table
Highest angle accuracy
High voltage capability up to 26 V
Fully compliant development according ISO 26262: Ready for Functional Safety applications up to ASIL D level
Learn more: XENSIV™ TLE5014 angle sensors