High Performance Linear Voltage Regulator
Featured Product from Infineon Technologies AG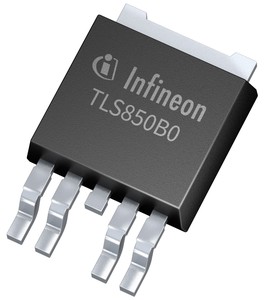 Infineon launches two new voltage regulator families targeting automotive applications. New products offer wide input voltage range (2.75V to 40) and very low quiescent 5µA - 40µA (e.g. for systems connected permanently to battery). Its new loop concept combines fast regulation and very good stability requiring only one small ceramic output capacitor of 1µF.
The OPTIREG™ Linear TLS805x and TLS810x devices are optimized for very low quiescent current operation down to 5µA.
The OPTIREG™ Linear TLS820xx and TLS850xx offer a very low dropout voltage of only 80mV and an extended input operating range down to 3V.
Both families are designed to be operational in harsh automotive environment and implement automotive specific feature sets. To improve further stability and robustness products were designed and tested with LV124 requirements flow, which is unique and helps to improve quality in the field and minimize design effort and cost. Both families are suitable for all battery connected automotive applications and are able to withstand cranking and load dump conditions. With output current options ranging from 50mA up to 500mA these products have best in class quiescent current performance making them suitable for body applications ranging from body control modules, HVAC to access control, lighting etc. to supply microcontrollers, transceivers etc.