Digital Temperature Sensor DigI2Cels
Featured Product from Innovative Sensor Technology IST USA Division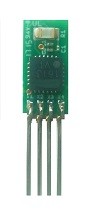 The new IST digital Temperature sensor DigI2Cels is a sensing product that combines performance and simplicity in one. The sensor performance is provided through an on board platinum RTD, known for its outstanding stability and repeatability. While the physical temperature parameter changes are detected from the trusted technology of our own platinum RTD sensors, an on board TDC, provides a high resolution digital I2C output with 16 bit resolution.
The simplicity is provided by the fact that our RTD sensor characteristics and its corresponding polynomial coefficients are stored in the digital sensor's EEPROM, which allows to achieve +/- 100 mK full scale accuracy. Operation range is -90°C to +85°C. The sensor operates with ultra-low power consumption, ready for HVAC wireless applications and more.
Watch our corporate video >>>>Welcome to INNOVATIVE SENSOR TECHNOLOGY!
Innovative Sensor Technology IST USA Division is a fully owned subsidiary of Innovative Sensor Technology IST AG, based in Switzerland. We are a world-class manufacturer of thin-film platinum and nickel RTD temperature sensors, capacitive humidity sensors, mass flow sensors, conductivity sensors and bio sensors at the component level.
With our state-of-the-art manufacturing technology, we offer both standard and custom sensors to satisfy various applications. Our sensors cover requirements for system integrators in the process control, building automation, test & measurement, medical, automotive, and appliance industries.
IST USA Division offers high flexibility in sourcing and supporting our products. We offer in-house stock and on-site engineering support, which is available during our regular business hours for design, application, and after sales support.
IST produces five types of thin film measurement technology: RTD temperature sensors, capacitive relative humidity sensors, mass flow sensors and conductivity. Manufactured at the component level, these elements are available with a diverse range of standard and custom features.
The available and ever expanding IST portfolio satisfies the growing application possibilities across multiple industries.
Our wide product range is the choice of many renowned end customers and OEMs in these fields. As a result, our sensors are found in measuring instruments for various applications such as process control, HVAC and building automation, test and measurement, medical, automotive, and appliance. While our products are widely used in these industries, they are by no means limited to them.
Process Control
Building Automation
Test & Measurement
Medical
Auto
Appliance
For your convenience, we have included resources such as technical information, data sheets, application notes, and performance data for our sensors. If you have any questions regarding our products and their applications, please do not hesitate to contact us. We have engineers available to support you with all of your technical inquiries.
Get updated on a regular basis by subscribing to our Newsletter.