IST Thin Film Mass Flow Sensors
Featured Product from Innovative Sensor Technology IST USA Division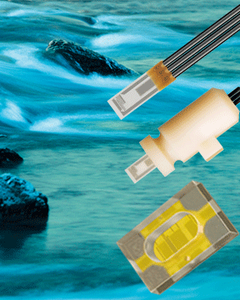 Thermal mass flow sensors utilize heat transfer principles to determine the flow velocity of a fluid. As fluid passes across the sensor, heat is carried from the sensor to the medium. This relationship is dependent upon the flow rate. As flow increases, so does the amount of heat that is transferred. By knowing the temperature of the medium, the flow rate can be determined from the amount of voltage compensation needed to maintain a constant temperature differential.
IST thin film mass flow sensors offer solutions for a wide variety of flow applications. The thin film and membrane technologies incorporate highly accurate temperature sensors and heaters as core elements of the sensors. IST flow sensors are applicable in gas (liquids upon request), have an operating temperature range of -30°C to +450°C, and can measure flow rate and direction from 0.0001m/s (microflowSens) to 100m/s (respectively from 1mL/min to 10L/min). In addition to measuring flow rates, our liquid sensors can detect the presence of a liquid, biofilm, or bubbles, as well as indicate liquid level .
Development channels guarantee the best possible adaptation of our sensors to the requirements of your application, whether in terms of dynamic range, response time, directional detection or ambient conditions. Connecting options such as different wires, solutions on flexible substrates or injection-molded encapsulations are available (denoted by letter A).
Application Services
Need some help with your application developement? Our technical team can offer you consulting, development, and production assistance for your project.
Watch our corporate video >>>>Welcome to INNOVATIVE SENSOR TECHNOLOGY!
Innovative Sensor Technology IST USA Division is a fully owned subsidiary of Innovative Sensor Technology IST AG, based in Switzerland. We are a world-class manufacturer of thin-film platinum and nickel RTD temperature sensors, capacitive humidity sensors, mass flow sensors, conductivity sensors and bio sensors at the component level.
With our state-of-the-art manufacturing technology, we offer both standard and custom sensors to satisfy various applications. Our sensors cover requirements for system integrators in the process control, building automation, test & measurement, medical, automotive, and appliance industries.
IST USA Division offers high flexibility in sourcing and supporting our products. We offer in-house stock and on-site engineering support, which is available during our regular business hours for design, application, and after sales support.
IST produces five types of thin film measurement technology: RTD temperature sensors, capacitive relative humidity sensors, mass flow sensors and conductivity. Manufactured at the component level, these elements are available with a diverse range of standard and custom features.
The available and ever expanding IST portfolio satisfies the growing application possibilities across multiple industries.
Our wide product range is the choice of many renowned end customers and OEMs in these fields. As a result, our sensors are found in measuring instruments for various applications such as process control, HVAC and building automation, test and measurement, medical, automotive, and appliance. While our products are widely used in these industries, they are by no means limited to them.
Process Control
Building Automation
Test & Measurement
Medical
Auto
Appliance
For your convenience, we have included resources such as technical information, data sheets, application notes, and performance data for our sensors. If you have any questions regarding our products and their applications, please do not hesitate to contact us. We have engineers available to support you with all of your technical inquiries.
Get updated on a regular basis by subscribing to our Newsletter.