New RealProbeTemp Temperature Assembly
Featured Product from Innovative Sensor Technology IST USA Division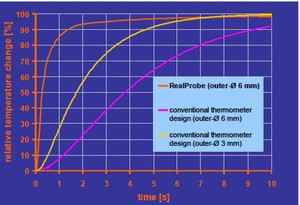 New RealProbeTemp Thin-Film RTD Temperature Assembly
The RealProbeTemp is a pre-assembled stainless steel probe containing a 100 Ω platinum thin film RTD temperature element with an operating range from -50°C to +200°C. The probe sheath is tip sensitive, providing superb response times and the ability to measure in liquids at a minimum depth. The assembly can also be applied as a stand alone probe or a sub assembly.
Reduced Response Times and Immersion Depth
Utilizing a special, thermally conductive metallization construction encased in thin wall tubing, IST's RealProbeTemp provides an unequaled probe assembly with a fast response time and reduced immersion depth. Measured in water at 0.4 m/s, it is able to achieve 90% of the temperature change in less than 1.5 seconds, and 63% in less than 0.5 seconds. This is a significant improvement when compared with conventional probes, even those with much smaller outer diameters.
For accurate measurements, standard probe assemblies require a depth of 25 to 30mm, whereas the RealProbeTemp requires only 10mm or slightly less. It is ideal for applications with reduced space and large temperature gradients between the measurement medium and the surrounding atmosphere.
Stand Alone Probe or Sub Assembly
The RealProbeTempcan act as a stand alone probe assembly or as a sub assembly insert to minimize the fabrication processes and materials necessary for larger or more complex probe assemblies. The pre-assembled and inspected unit thus results in reduced manufacturing costs and construction efforts. The tip sensitive construction allows for this RTD temperature probe to be used as a bearing temperature sensor or surface contact temperature sensor.
The RealProbeTemp Technology is applied in thermal flow sensors providing turnkey features for flow meters and flow switches. Custom designs are possible to be incorporated in order to interface with existing flow sensor devices and systems.
Application Services
Need some help with your application developement? Our technical team can offer you consulting, development, and production assistance for your project.
Watch our corporate video >>>>Welcome to INNOVATIVE SENSOR TECHNOLOGY!
Innovative Sensor Technology IST USA Division is a fully owned subsidiary of Innovative Sensor Technology IST AG, based in Switzerland. We are a world-class manufacturer of thin-film platinum and nickel RTD temperature sensors, capacitive humidity sensors, mass flow sensors, conductivity sensors and bio sensors at the component level.
With our state-of-the-art manufacturing technology, we offer both standard and custom sensors to satisfy various applications. Our sensors cover requirements for system integrators in the process control, building automation, test & measurement, medical, automotive, and appliance industries.
IST USA Division offers high flexibility in sourcing and supporting our products. We offer in-house stock and on-site engineering support, which is available during our regular business hours for design, application, and after sales support.
IST produces five types of thin film measurement technology: RTD temperature sensors, capacitive relative humidity sensors, mass flow sensors and conductivity. Manufactured at the component level, these elements are available with a diverse range of standard and custom features.
The available and ever expanding IST portfolio satisfies the growing application possibilities across multiple industries.
Our wide product range is the choice of many renowned end customers and OEMs in these fields. As a result, our sensors are found in measuring instruments for various applications such as process control, HVAC and building automation, test and measurement, medical, automotive, and appliance. While our products are widely used in these industries, they are by no means limited to them.
Process Control
Building Automation
Test & Measurement
Medical
Auto
Appliance
For your convenience, we have included resources such as technical information, data sheets, application notes, and performance data for our sensors. If you have any questions regarding our products and their applications, please do not hesitate to contact us. We have engineers available to support you with all of your technical inquiries.
Get updated on a regular basis by subscribing to our Newsletter.