Precision Sapphire Wafer Carriers
Service Detail from Insaco, Inc.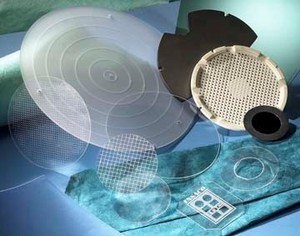 Insaco, Inc is a recognized worldwide leader in custom machined ceramic and sapphire parts for the semiconductor industry. We custom manufacture multiple hole wafer carriers in sapphire for GaAs and other semiconductors. Special nested designs for development programs are welcome.
Scratch resistant
Harder than any other optical material except diamond
Transparent
Durable
Withstands repeated use and handling
Best coefficient of thermal expansion match to GaAs
Chemically resistant to all reagents used in processing
Superior chip resistance
Wafers are typically manufactured with an optically clear finish. Flatness, thickness and parallelism can be specified to = 2.5 microns, as the geometry requires, and diameters can range from 2.0 to > 8 inches. Multiple hole configurations are available to aid the speed of demounting and come with made-to-order hole diameters.