Custom Machined Wafer Carriers
Featured Product from Insaco, Inc.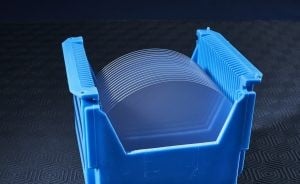 INSACO Offers Wafer Carriers With or Without Multiple Holes
INSACO, Inc has become recognized as a worldwide leader in custom machined ceramic and sapphire parts for the semiconductor industry. Through this experience, INSACO has perfected the ability to produce sapphire wafer carriers with or without multiple holes for GaAs, Indium Phosphide, and other compound semiconductors.
Why Sapphire?
Superior chip resistance
Chemically resistant to all reagents used in processing
Scratch resistant. Harder than any other optical material except diamond.
Transparent
Durable. Withstands repeated use and handling
Best coefficient of thermal expansion match to GaAs.
INSACO has also developed unique capabilities to fabricate wafers with one or more circular recesses; to serve as holder for other wafers. This includes single recess in the center as well as, for example, four 2" recesses in a single 6" carrier. The key is keeping the recess flat and parallel, and perhaps also polished. This is where innovation was required, and we are able to offer flat and parallel recesses to .0001" (2.5 micron).
Sapphire offers many advantages over quartz carriers:
Higher thermal conductivity (42 W / mK @ 20°C).
Higher melting temperature (2040 °C).
Much greater hardness & scratch resistance – second only to diamond.
Impervious to virtually all chemicals and reagents.
Features
Custom sizes for the processing of your 2″,3″, 4″ and 6″ GaAs wafers, with larger carrier sizes if required
Available with or without perforations
Laser marked for identification
Scratch and chemical resistant
Benefits
Cost savings by giving you exactly what you need
Flexibility in meeting your design specs
Provides full documentation and continuous traceability
Lends itself to repeated use lowering costs without compromising the integrity of the wafer.
Watch>>>Precision Fabrication by Design
High Precision Machining of Hard Materials
Since 1947 Insaco® has been a precision machining and polishing fabricator of parts from all technical ceramics, sapphire, glass and quartz. We machine these materials to very precise tolerances (many times measured in millionths of an inch) for dimension, flatness, wedge and roundness or cylindricity. Our customers typically have a critical application that requires extremely tight tolerances in ultra-hard materials. We also have the capability to grind and polish spherical radius parts in a variety of hard materials, both inside and outside diameters, to optical requirements.
features include:
Extremely high accuracy and tight tolerance machining
Lights-out manufacturing
Machine automation including large capacity envelope
Automated centerless grinding
High efficiency/low cost volume production
Low-volume prototype machining
5-axis machining capability
ITAR compliant
High-volume robotic machining
Video inspection and a Class 100 Cleanroom
Extensive Quality Control protocols
Sapphire tubes and polishing
Insaco
Insaco has been fabricating precision parts from all technical ceramics since 1947. Approximately a third of our machining involves sapphire, but our capabilities go way beyond that. Insaco engineers welcome inquiries from designers contemplating specifying technical ceramics for their applications, whether prototype or full production. We only ship parts that meet agreed-to requirements, but are often able to respond to challenges and achieve results others cannot.
Insaco also has extensive inspection and documentation procedures so parts are always to print. With a seasoned team of engineers and machine operators we are available to discuss your application needs including alternative materials and cost drivers. please click here to send a request, or visit our Frequently Asked Questions page. Click here to find out more about our company and our people.