Metering Pumps for Hostile Liquids
Service Detail from Insaco, Inc.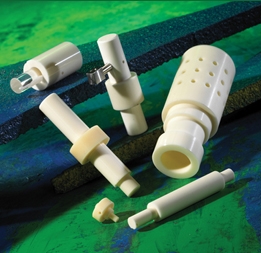 Pistons and sleeves in ceramic materials are a specialty of Insaco, Inc. Since 1947 Insaco has been precision machining and polishing of ID's and OD's allowing Insaco to meet the toughest customer requirements for minimum clearance, seal-less metering pumps. Some designs in alumina or sapphire achieve clearance of less than .0005" on two-inch long travel. Other customer designs in polished quartz or polished sapphire allow observation of combustion conditions for IC engine research.
Insaco is a precision machining company that fabricates parts from all technical ceramics, sapphire, glass and quartz. They machine these materials to very precise tolerances for dimension, also flatness, wedge, roundness, and cylindricity, etc as required by their customers. They welcome developmental parts as well as production requirements. Engineers are available to discuss practicality of alternatives for your application including material and cost drivers. See their website for more information including available material properties with an interactive Designer's Guide.
---