Data acquisition solution from Red Pitaya creators
Service Detail from Instrumentation Technologies D.O.O.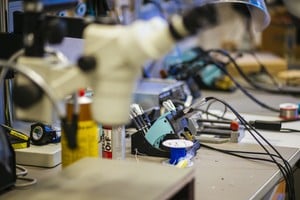 With the Data Acquisition (DAQ) market growth in recent years and its expected growth in the future, there is a growing demand for tailored solutions. Our team of engineers excels in the development of customized Test and Measurement Instrumentation with connectivity across different areas of industry. We provide customized solutions in the acquisition of high speed signals and poor S/N ratio signals.
We work with companies in various industries, and each industry has its specifics and requirements. Having a full understanding of the project's requirements and the constraints of the industry specifics is of key importance. Therefore, we take time at the very beginning to pinpoint the issue the project is supposed to address and provide the client with a full solution from product development to certification assistance.
Our engineering team has 20 years of experience in developing tailor-made solutions based on customers' needs, which help save time, costs and resources.