High Precision Electron Beam Position Monitor
Featured Product from Instrumentation Technologies D.O.O.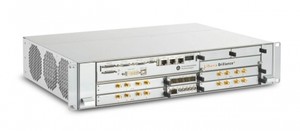 Acquisitions can be carried out simultaneously on all data paths: from raw ADC acquisition, turn-by-turn acquisition, slow acquisition to fast acquisition. Fast acquisition data can be optionally provided through the GDX module (Small Form-Factor Pluggable slots) at a 10 - 30 kS/s data rate and serves as the input data for fast global orbit feedback.
Libera Brilliance+ equipped with the GDX module can be programmed to control the control units of fast or slow corrector magnets. The control algorithm can be developed completely by the user (FPGA development kit is provided) or alternatively it can be prepared in collaboration with Instrumentation Technologies.
Benefits:
Universal tool for fast commissioning and machine-physics studies
Unique instrument for characterization and optimization of the machine
Detailed first-turn single bunch measurement with raw ADC and turn-by-turn data
2U form factor with up to 4 BPM modules
Open resources for user-developed applications
Latest Kintex Ultrascale+ FPGA (will be introduced in 2020)
Variety of interfaces (e.g. EPICS, TANGO, HTTP, MATLAB, etc.)