Industrial DAQ application
Service Detail from Instrumentation Technologies D.O.O.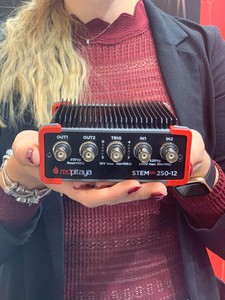 Since the very beginning, Red Pitaya has connected with supporters of their standard – yet innovative and award-winning – development boards for a vast range of applications, resulting in over 30,000 clients worldwide, including universities and companies. And since progress never stops, the manufacturer could not fail its vanguard reputation when looking for an answer to the continuous demand for increased sophistication and state-of-the-art hardware. For this purpose, Red Pitaya joined forces with Instrumentation Technologies engineers in the design of a product, ready to satisfy more demanding user requirements for applications in the industrial, R&D, T&M, and DAQ fields. The result, the SIGNALlab 250-12™ board, offers increased performance, full software control, and more hardware options when compared to its predecessors in the Red Pitaya product range, as well as improved real-time processing capacities and faster analog performance, thanks to its larger FPGA. The board also comes equipped with a web app user interface, which can be accessed via Ethernet or Wi-Fi and is as such ready for use in an industrial environment.
In this industrial market segment, the all-rounder Red Pitaya boards have been generating high levels of overall customer satisfaction in concept prototyping and test automatization projects. Nevertheless, throughout the years, growing demand has been detected for more robust DAQ systems, with even higher performance levels, upgraded and customized to companies´ needs for integration in existing systems. To do so, Instrumentation Technologies has developed a flexible and effective three-step strategy.