Low-noise and Wide Dynamic Range Digitizer
Featured Product from Instrumentation Technologies D.O.O.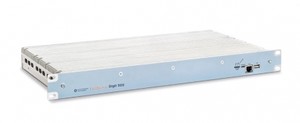 The Libera Digit 500 is a low-noise and wide dynamic range digitizer with 4 channels and a sampling frequency of max. 500 MHz, phase locked to an external reference signal. The data is stored in a configurable segmented buffer, with different acquisition modes and trigger rates up to 1 kHz. Instrument is available in AC and DC coupled version. The DC-coupled version has a front end with 250 MHz bandwidth, suitable for time-domain processing of signals coming from different types of sensors. The AC-coupled front end has a bandwidth ranging from 1 MHz to 2 GHz and is suitable for narrow-band signals and digital down-conversion applications. The front end can also be customized to include different types of analog filtering/conditioning.
Benefits:
4 channels sampled at 500 MS/s with 14-bit ADCs
AC coupled and DC coupled versions
31 dB variable gain, more than 90 dB dynamic range
Different buffer acquisition modes with configurable segmented buffer
EPICS, Tango, Python, Matlab and LabVIEW compatible
Passive cooled, PoE++ compatible