Red Pitaya upgraded for industrial DAQ application
Service Detail from Instrumentation Technologies D.O.O.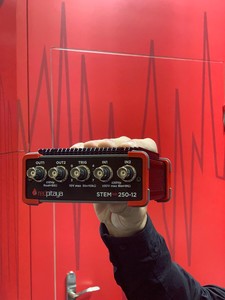 Many companies across different industry segments use Red Pitaya STEMlab boards either for concept prototyping or test automatization. Even though they are generally satisfied with their performance as a general-purpose device, they sometimes need a more robust and capable DAQ device for more precise measurements. These companies are looking for a device that could be customized and successfully upgraded and integrated into their own solution or existing products, thus cost optimizing their solution.
We are happy to say that we were able to provide such results for many companies based on our three-step solution. Here's how we do it:
STEP 1:
In the first step, we evaluate your specific situation and provide a Red Pitaya to test in your own environment. During the testing period, we can assess whether Red Pitaya is a good base device for envisioned measurements and processing. The outcome of this step is a complete understanding of your challenge and hands-on feedback on a possible solution.
STEP 2:
In the second step, we together define your requirements based on the knowledge gained in step 1. Our team of engineers will define the scope of your needs and prepare a tailor-made solution both on the hardware and software side. This step aims to upgrade the Red Pitaya features and capabilities to provide better results from the prototype solution. Our objective is to enhance Red Pitaya's performance to target the exact problem you are facing.
STEP 3:
Results from both steps are considered and we proceed with the development of a customized data acquisition device for your company. The device is 100% tailor-made based on your requirements – higher or lower sampling rates, different form factors, ruggedized design with industrial or automotive grade components, etc. The decision is truly up to you.
Our objective is to transit from general-purpose devices like Red Pitaya's STEMlab to sophisticated industrial solutions tailored to your needs, based on our DAQ building blocks. Sometimes we can come to Step 3 directly from Step 1, if all information is gathered in the first step.