Compact Helmet Impact Recording System
Featured Product from Instrumented Sensor Technology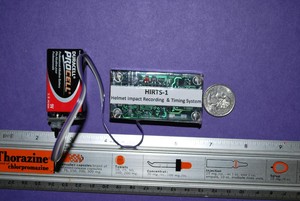 IST's Helmet Impact Recording System (HIRTS-1) is a compact, self-contained recording device which measures and records shock and impact to helmets or other space constrained fixtures. The device is planted or installed to an inside surface of the helmet.
Compact self, contained
2" x 1" x 0.5", 40 gram
3-axis accelerometer & recorder
Records peak shocks, total energy, duration, date, time
Ranges from 100 g to 2,000 g.
Standard range +/-300g
Threshold triggered
2,500 event memory
Wireless data interface
Electronics epoxy encanpsulated
Available for rental or purchase
Applications:
Athletic helmet testing
Crash testing
Drop testing
Athletic event measurement
Military helmet testing
Space constrained shock testing
Visit ITS to learn more our contact us today.